The PRIVATE cognac CASK experience by Bache-Gabrielsen offers you the possibility to become the owner of your own and personalized cognac cask. And the first step, which is essential, is the choice of the eau-de-vie. Between an eau-de-vie from Fins Bois, from Petite Champagne or from Grande Champagne, how to choose the "cru" that fits you the best ?
The different crus of the Cognac Designation
The Cognac Designation, which covers four departments –  Charentes Maritime, Charente, Deux-Sèvres as well as a small part of Dordogne – includes 6 different crus. They have been determined according to their soil's characteristics by the geologist Henri Coquand in 1860. Indeed, there is a large diversity of soils meant for the making of cognac : hills, marsh, woods, valleys, stones, chalks… Then, in 1936, they have been formalized in the form of decree of Designation. 
For the most curious ones, you can have a look on the official website of the Bureau National Interprofessionnel du Cognac and discover a map of these different crus. 
Regarding the eau-de-vie of the PRIVATE cognac CASK, choice is to be done between the 3 principle crus of the Designation, that is to say the Fins Bois, the Petite Champagne or the Grande Champagne.
Grande Champagne : supple and floral
Located in the heart of the cognac region, the Grande Champagne stretches on 13 229 hectares. The eaux-de-vie it offers are characterized by their suppleness and their floral predominance. This cru develops fine and light cognacs which require a long ageing in cask to achieve full maturity. The result is elegant and presents a nice finish. 
This is particularly due to the very fertile nature of the clay soils of the Grande Champagne. However they still present a solid structure, despite their delicacy. And this is also due to the spongy effect provided by the soil's nature which allows to concentrate some considerable water stocks, and so go through the most hot and dry periods of the year.
Petite Champagne : strength & floral
Surrounding the Grande Champagne, the Petite Champagne dedicates 15 415 hectares of its vines to the cognac production. By the likeness of their soils, the eaux-de-vie from this cru are very similar than the ones of Grande Champagne, even though they present a more relative fineness. Indeed, the cognacs from Petite Champagne are much more vigorous. A nice combination of powerful and floral notes.
Fins Bois : round & smooth
The Fins Bois surround the Champagne crus and count more than 31 000 hectares of vines. The soil is mostly made of chalk or clay, also known under the name of "groies". There is also some red stone, dating from the Jurassic period. It provides quick ageing cognacs, characterized by the roundness and the smoothness. The bouquet often reminds the scent of freshly pressed grapes.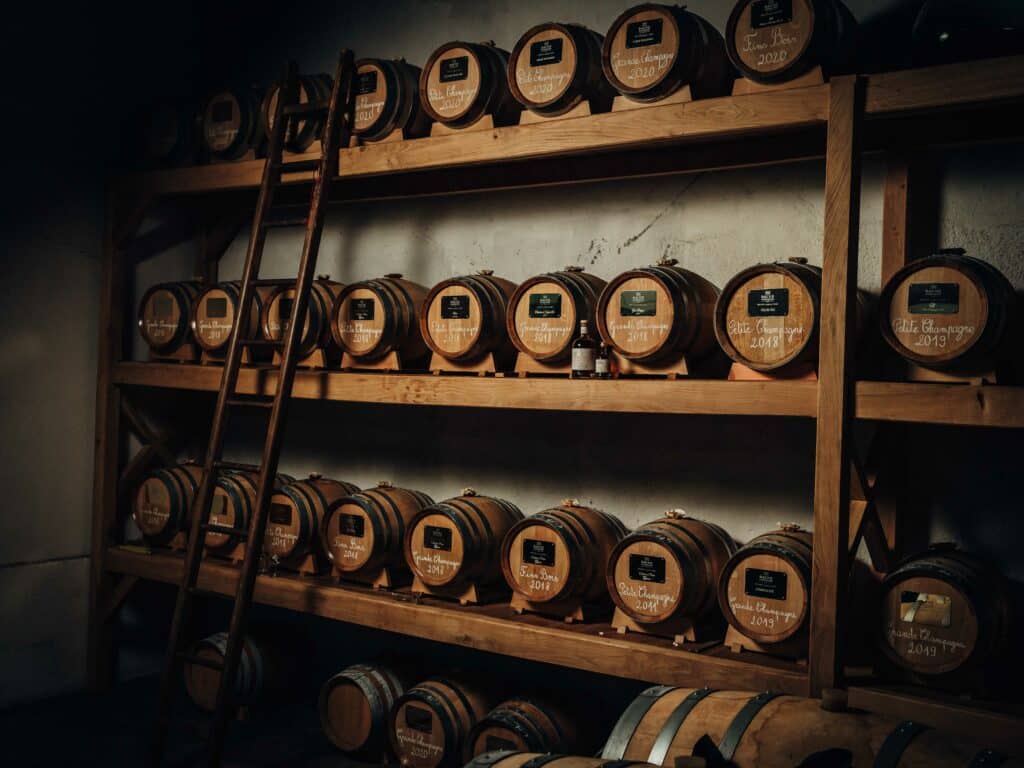 Then, for which one of those crus are you going to opt to start the PRIVATE cognac CASK experience ?
Aurélia, communication and marketing