It took a full year for our team to think up and produce the first organic & eco-designed cognac "BACHE-GABRIELSEN 5". Our challenge has been to seek out and select what is currently best from an environmental and carbon impact point of view, with the help of our supplier partners. "5" enriches our CSR process, and marks a bold step in our  contribution for a cleaner future. 
Why "5" ? 
Select the eco-designed materials, create an organic cognac blend in line with the style of our collection, and find a name for this cognac! So many hours spent brainstorming…then it became obvious, our organic and eco-designed VSOP had to be called "5":
5, like the 5th generation of the Bache-Gabrielsen family who will arrive onboard in a few years.
5, like 5 years old ageing for this fruity & silky organic blend made from Fins Bois and Petite Champagne districts.
5, like the 5Rs of the key points of ECO-DESIGN which inspired us for this creation 
The eco-design approach for "5"
The 5Rs of the key points of ECO-DESIGN are worldwide settled as following : 

Replace : Limit single-use components inside our packaging and favor environmental friendly materials.
Reduce : From the starting point, our bottle's design was thought to limit the consumption of raw materials.
Reuse : Allow the bottle to be refilled and reused thanks to the deposit process (this is only available in France for "5", through the QR code on the label – in French only).
Recycle : Anything that cannot be reused on our packaging must be recyclable.

Renew : Give this bottle a new role once used, such as a vase, a candle stand or a bottle of olive oil.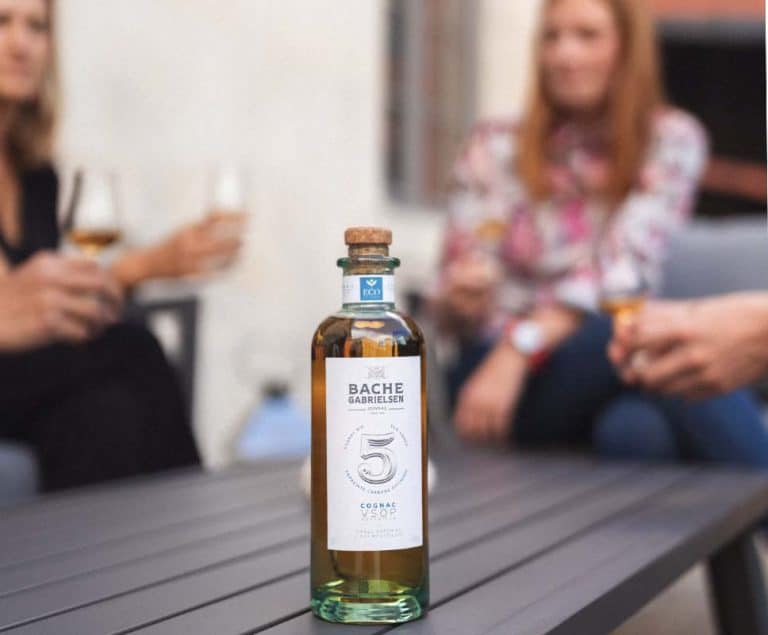 Next post
COLLECTING THE EAUX-DE-VIE AT THE WINEMAKER'S