Cognac is rich in history, anchored in the Charentais territory and also in international sales due to the diverse nationalities of the founders of the Maisons de Cognac (Martell was English, Hennessy was Irish, Meukow was Russian, Bache-Gabrielsen was Norwegian, …). Cognac has found its place in many consumption moments.
Therefore, cognac should be conjugated in the plural form ! It will accompany your meals with strength or delicacy, it will enhance your cocktails, it will surprise you in its « frozen » style, not to mention savouring it neat! Enjoy a moment of self-meditation or spend some time sharing with family and friends.
Cognac is tip-top for the gastronomy enthusiast !
In a general way, sugar and Cognac are a perfect match. The sugar softens the alcohol perception and the alcohol works as a flavour enhancer.
A scrumptious way to put your finger on this is, for example, to pair roasted pineapple slices, roasted in a pan with a bit of sugar and water to caramelize the fruit, with a Bache-Gabrielsen VSOP Triple Cask, with its remarkable roundness thanks to the time spent in small casks after the blending. The combination is exquisite…
Any other leads? Try a dark chocolate, rich in pure cocoa (at least 85%) and a Bache-Gabrielsen XO Fine Champagne. Its candied oranges hints will just click with the bitterness of the chocolate…
And if you're not really into sweets, try a couple of grilled scallops in lightly salted butter, sides roasted but a pearly heart, paired with a fruity cognac such as the Bache-Gabrielsen VS Tre Kors… Or the perfect match of XO and Serrano Ham, or as my butcher grandfather used to say : the Baby Jesus in velvet pants !
We also say that cognac is one of the best partners of « umami », this fifth flavour described by the Japanese as « savouriness », on the border between fat and fresh. But shhhh ! We'll talk about that in another specific article !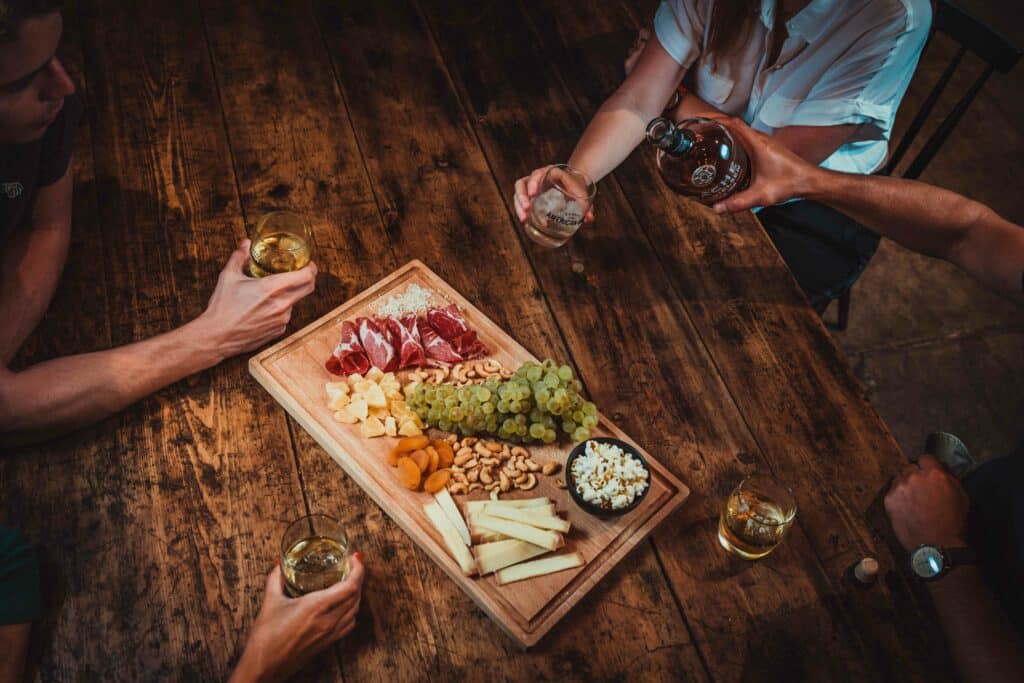 Frozen Cognac, or the -18°C Cognac
In case a friend visits you unexpectedly, always have a good bottle of Bache-Gabrielsen, ideally a VS or a VSOP, in the freezer and some pieces of smoked trout in the fridge ! We can recommend the trout fillets from Gensac, just a stone's throw away from Cognac !
Cognac doesn't freeze thanks to its high alcohol content, so no risk of finding bits of broken bottle scattered around when opening the freezer.
The drop in temperature to 18°C has an impact on the texture of the cognac, it's silkier in the mouth, quite thick, and in taste it gradually acquires hints of saltiness. The match with the smoked fish is simply brilliant !
High Five for a High Ball !
Cognac is an essential ingredient in classic cocktails like the Sidecar and the Sarezac but is also a perfect match for a High Ball which consists of adding a double dose of a soft drink (sparkling water, tonic, ginger beer… ) to a spirit, and serving it with a few ice cubes. The ultimate refreshing drink !
For this, we can recommend using 4cl Bache-Gabrielsen VS Tre Kors, a big ice cube (at least 3 or 4 cm sides) and the final addition of 10cl of Club Soda.
A la carte « Large Family »
The discovery of the day is easy as pie, but it works every time : it awakens your guests before getting down to business ! I love to call this recipe « Large Family » : 2cl of Bache-Gabrielsen American Oak, one for each of the folks, and 4 ice cubes. Well OK, it's not funny, but as I grew up in a family of 4 brothers, it makes me laugh. Well, OK. And I'm the eldest. Which means that my brothers couldn't stand me!
See you,
HBG
P.S. : Obviously, the progressive deterioration of the literary style of this article doesn't have anything to do with the fact that we test, without exception, all of our recommendations. Yes, we're professional ! Well, OK.